Gladiator Profile – Craig Adams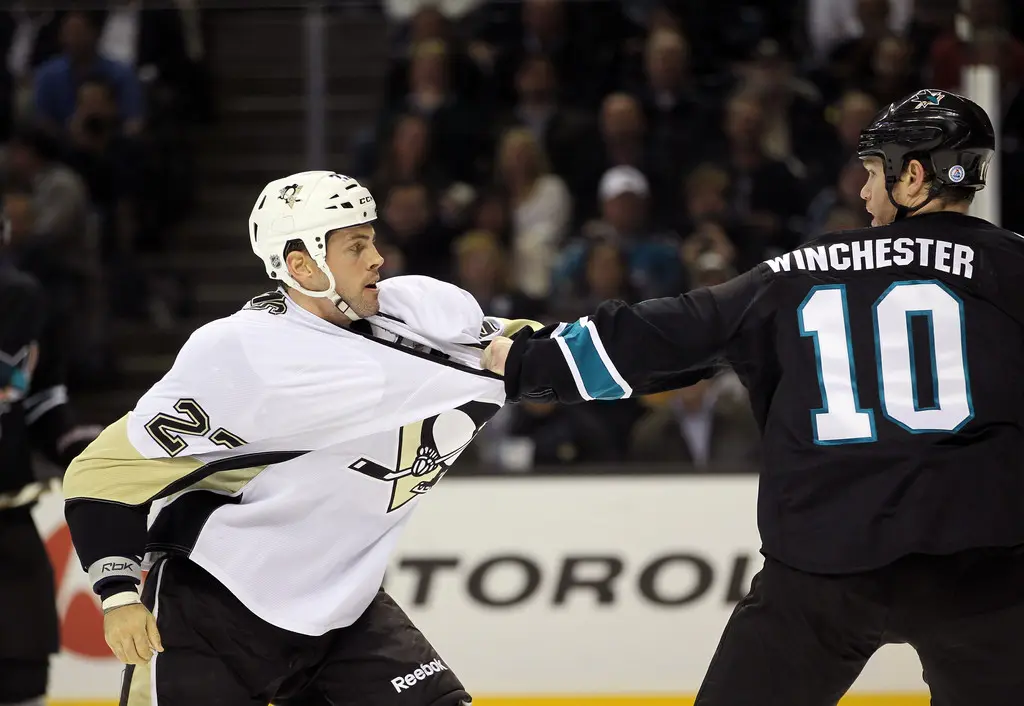 At Hockeyfights we pride ourselves on giving the fans what they want. This is a subtle reminder to other fight fans, if there's a fighter you want to know more about, you just have to let us know! @RyanSmigg10 let us know he wanted a profile on Craig Adams, and who am I to deny profiling a Gladiator with my namesake. So without further ado, let's do a deep-dive on a man that spent over 14 seasons and racked up 50+ fights in the NHL. Not to mention that as a member for the 2006 Carolina Hurricanes, and 2009 Penguins, he became the first, and likely last Brunei (feel free to check a map, I had to as well) born player to lift the Stanley Cup. Gladiators come from all walks of life, so let's not waste any time celebrating the Harvard warrior turned financial advisor.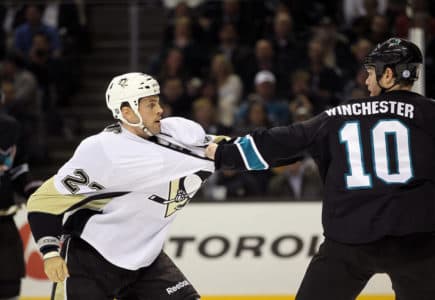 D.O.B: April 26, 1977 Seria, Brunei
Height: 6'0
Weight: 200 lbs
NHL games played: 951
NHL fights: 54
\
In 1996, we were given the Nintendo 64, the MLS, and Craig Adams to the NHL. The Harvard alum was selected in the 9th round by the Hartford Whalers but didn't make his NHL debut until 2000 due to a shoulder injury. In his debut season with the now Carolina Hurricanes, the former Calgary Canuck, racked up 20 penalty minutes, and single goal in 47 games, including 3 playoff games. Not the best, but certainly not the worst for a rookie. But after a couple of stints in the IHL and AHL, Adams put up back-to-back 80 game seasons with 71 and 69 PIMS respectively. And then…BAM! The lockout happened. Like many other NHL players, Adams took his talents abroad. The destination? None other than the fashion capital of the world, beautiful Milan. Maybe it was the weather, food, and women, but Italy was good to Adams. He racked up nearly a point a game, putting up 15 goals and 14 assists in his 30 games in Bel Paese. In 2005, Gary Batman announced the lockout had ended, forcing Adams back to North America, and at first, I'm sure it wasn't the best. But the fact that he and his Carolina Hurricanes were able to raise the Stanley Cup in '06 was a pretty, pretty, pretty good consolation prize. Adams may not have thrown the biggest bombs in his scraps, but he was tough as nails, and was never out of a fight, as seen in my favorite Adams fight below.
My Favorite Fight: Craig Adams vs Martin Lapointe – February 19, 2003 – 1st period – 0:40
Nothing better than a scrap within the 1st minute of a game. Did Craig Adams start it? Yup, with a huge hit on Don Sweeney. Did he finish it too? Hell yes, he did. Martin Lapointe looked like he was going to dominate the fight with a series of punches, and while not many were bangers, he definitely landed a couple of good uppercuts when Adams had his head down. But Adams was patient. Was he playing rope-a-dope? Probably not. Regardless, Adams waited, waited, and then Boom-Shaka-Laka he fired off a vicious left hook that dropped his fellow Harvard alum. I don't love this scrap solely for the TKO, it definitely doesn't hurt, but I love when a guy will just stand in there and wait for his opportunity. Sort of Tie Domiesque. The game would go on to be a 1-1 draw, and while there was certainly no love lost between these two squads before this game, this just made the separation even more.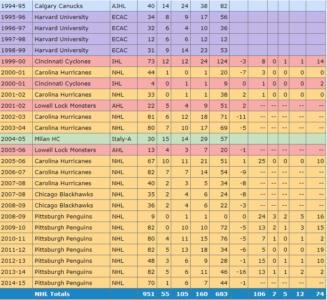 Adams finally decided to hang up his skates after 14 years in the NHL, 2 cups, and more fights than you, I, and your best friend combined. Adams was certainly an enforcer, but the fact that he tallied over 50 goals in his career made him somewhat of a hybrid. This was the start of a new trend in the NHL. You can't just smash faces anymore, you still have to be able to contribute on the scoresheet. Is that ideal? Meh, that's a personal preference. Obviously, I still miss the good ol' days, but it's easy for me to say on the sidelines. Adams is now enjoying a great career as a financial advisor for the prestigious Merrill Lynch in Beantown. Please remember to hit us up with your picks for a profile. We want to give the people what they want, except unless we'll never know until you tell us!
Twitter:@Jonesinthezone