1995-1996 Regular Season Fight Card
From:
Hamilton, ON Canada
NHL Fights: 13
Date/Time
For
Against
Opponent 11/07/95
2 Pd 12:24
LAK
@STL
Basil McRae
Date/Time For Against Opponent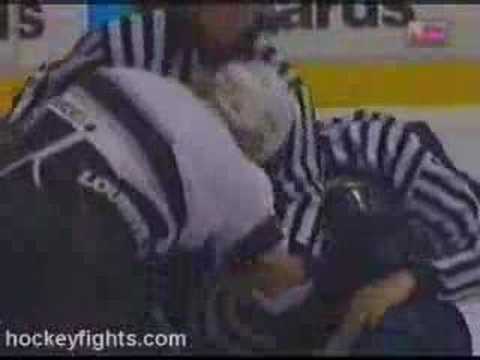 11/16/95
2 Pd 15:35
@LAK
NYI
Wendel Clark
Other Penalties: McSorley received a roughing.
Date/Time For Against Opponent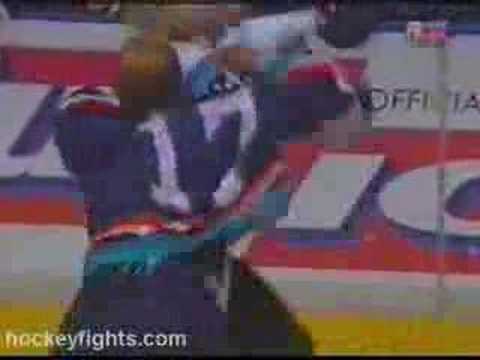 11/16/95
3 Pd 10:59
@LAK
NYI
Wendel Clark
Date/Time For Against Opponent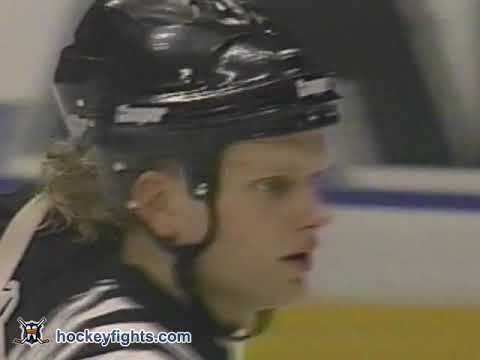 11/21/95
3 Pd 5:58
LAK
@PHI
Eric Lindros
This one gets started after a Flyers goal by Mikael Renberg. The Flyers are celebrating and the camera cuts away to show the Philly fans cheering in the stands, and when it gets back the announcer says "Oh look out folks," and McSorley and Lindros have the gloves off and are grappling in-tight together. The fight starts off slowly as McSorley is attempting to get setup for the fight while Lindros looks to be making sure to tie McSorley up so he can't get free. McSorley starts things off with a short right which Lindros completely locked out. McSorley sees that the strategy of hitting Lindros in the face won't work so he nails Lindros with three body punches, which weakened Lindros' grip sufficiently on McSorley's arms to throw a right at Lindros' head, which doesn't connect. Lindros responds with a right hand of his own which may or may not have landed, either way it didn't faze McSorley. The two fighters grapple for position a little more and McSorley is trying to cause some separation and get free from Lindros' powerful grip while Lindros is content to hold McSorley. McSorley slyly throws some rights at Lindros' hands which are holding his jersey. Lindros nails McSorley with a short hard right to the face. McSorley accomplished his goal of getting his right hand free though and tries a short right at Lindros' face, which connected. The two fighters grapple some more, but Lindros can no longer put the "seatbelt," on McSorley effectively because McSorley's jersey is off. McSorley then pulls his own jersey over his head. Lindros throws a left at this time which hit the top of McSorley 's helmet. Now McSorley is free/loose and Lindros immediately tries to initiate the hug to get the linesmen in, but they stay out. Lindros is strong, but McSorley breaks his grip and lands a hard right to the side of Lindros' helmet. McSorley then throws a flurry of five hard overhand shots, most of which look to be either hitting Lindros' helmet or the back of his head. McSorley then switches to the uppercuts and it looked like he might have grazed Lindros with one. Lindros tries to get the bearhug on McSorley again, but McSorley keeps throwing rights and Lindros doesn't want to eat a punch. McSorley threw three rights, one which looked to land while the other two missed. They grapple again for a couple of seconds and McSorley manages to remove Lindros' bucket, then McSorley lands a very weak right which does no damage; however it allows him to load up and land four pretty hard rights to the back of Lindros' head. Lindros counters with a right of his own which missed, McSorley counters back with a hard right and Lindros responds with another right, and Marty lands a short hard right. Nice little exchange there. They get separated and finally the linesmen, who had been attempting to intervene for the majority of the fight, got in, grabbed McSorley by the right arm (which was loaded up for a haymaker) and it was over. McSorley skates to the box in a state of undress. Other Penalties: Kevin Haller received a roughing.
Date/Time For Against Opponent 11/27/95
1 Pd 5:55
LAK
@TBL
Rudy Poeschek
Date/Time For Against Opponent 12/13/95
2 Pd 13:53
@LAK
OTT
Dennis Vial
Date/Time For Against Opponent 12/13/95
3 Pd 14:31
@LAK
OTT
Dennis Vial
Vial's third bout of the night. Other Penalties: McSorley received an instigator and game misconduct; Vial a game misconduct.
Date/Time For Against Opponent
Date/Time For Against Opponent 01/25/96
3 Pd 2:33
LAK
@HFD
Mark Janssens
Date/Time For Against Opponent 02/21/96
2 Pd 4:51
LAK
@EDM
Louie Debrusk
Other Penalties: Debrusk received an unsportsmanlike conduct and misconduct.
Date/Time For Against Opponent 02/21/96
3 Pd 17:8
LAK
@EDM
Kelly Buchberger
Date/Time For Against Opponent 04/04/96
1 Pd 1:53
NYR
@PHI
Dan Kordic