2005-2006 Regular Season Fight Card
From:
Portage La Prairie, MB Canada
NHL Fights: 3
Date/Time
For
Against
Opponent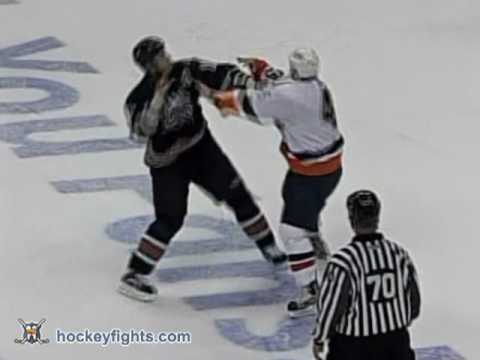 10/13/05
1 Pd 15:33
NYI
@WAS
Brendan Witt
Date/Time For Against Opponent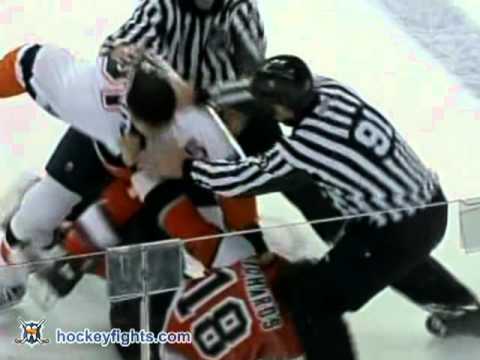 11/10/05
1 Pd 15:32
NYI
@PHI
Mike Richards
They drop the gloves at the blueline, shedding their helmets in the process. They grab on and Asham lands a big right to start things off. Richards comes back with a right of his own. They start exchanging rights for a few seconds with Asham landing the majority of his punches. Asham throws another right and loses his balance as both players fall to the ice. Asham throws a couple rights as they are falling.
Date/Time For Against Opponent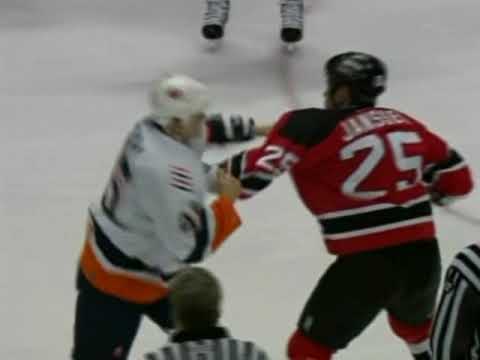 02/11/06
1 Pd 2:54
NYI
@NJD
Cam Janssen
Right off of the faceoff, the two drop the gloves and square off. Janssen quickly picks his mouthpiece off of the ice. They grab ahold of each other as Janssen throws three rights as Asham returns fire with a jersey-jab and right combination. They exchange right hands as Asham lands a few jersey-jabs before the two exchange rights once more. They each throw a couple of more jersey-jabs as Asham lands another right while Janssen waits for an opening. Asham throws two more rights and a jersey-jab before the two go back and forth with rights for a short while. Asham connects with two short lefts before the two exchange rights once more for an extended period of time. Janssen then connects with three straight rights before the two throw simultaneous rights. Asham then pushes Janssen to the ice and the linesmen come in.