2003-2004 Regular Season Fight Card
From:
Portage La Prairie, MB Canada
NHL Fights: 8
Date/Time
For
Against
Opponent 11/28/03
2 Pd 15:46
NYI
@DET
Jason Williams
Date/Time For Against Opponent 12/26/03
2 Pd 12:24
NYI
@NJD
David Hale
Asham and Hale come together and exchange shoves and high-sticks on the near-boards. The Devils came out flat and trailed 2-0, so Hale tries to spark the team. He drops the gloves grabs on and finally Asham obliges. Asham throws a good uppercut that connects flush and then Hale lands overhand right. They each throw a few rights, both connecting at least twice. Asham lands the better shots, one very solid. Eventually Asham gets Hale over and he falls to a knee. Hale then gets back up and takes down Asham. Asham came away from the scrap with a bloody jersey, trickling down from a spot near his eye that was opened from a high stick right before the bout. Other Penalties: Hale received an instigator and misconduct.
Date/Time For Against Opponent
01/01/04
3 Pd 8:18
NYI
@OTT
Chris Neil
Most of the game these two have butted heads and finally decide to have a go. Off the draw Neil goes into Asham, who hesitates for a second and then decides to drop em. They lock out and begin firing right hands, Asham landing a decent one. They spin and Asham lands a nice right to Neil's chin. Asham is landing maybe one or two extra punches. Neil answers with a nice left. They spin a little more and its over.
Date/Time For Against Opponent 01/29/04
2 Pd 19:42
NYI
@BOS
Jiri Slegr
Slegr challenges Asham in the Bruins' zone. Asham was willing to drop em. The camera came in late, when it did he landed six good rights on Slegr. The linesmen jumped in when Asham had him bent over. Other Penalties: Asham received a roughing; Slegr a cross checking.
Date/Time For Against Opponent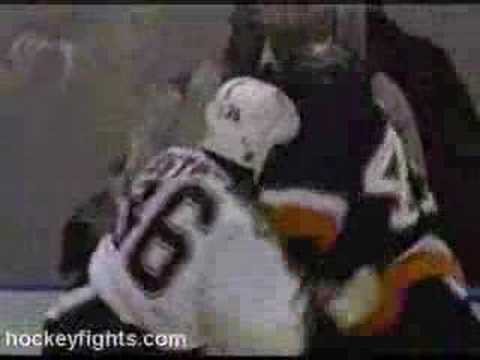 02/18/04
1 Pd 14:1
@NYI
PIT
Tom Kostopoulos
Melichar runs Kvasha and Asham takes exception to it and comes after Melichar but TK steps in for Melichar. Asham starts off with two rights that don't connect and then TK falls backwards and manages to get back up. While he was getting up Asham lands a hard right to the back of TK's head. Asham throws three more rights none connecting well, then TK tries a right that hits Asham's back. TK throws another right that hit's the back of Asham's helmet. Asham comes back with a big right, but it came up short. TK comes back with a short right that lands, but doesn't do much. They then try exchanging rights, but the problem is that Asham lands three hard rights while TK's rights find nothing but air. Asham looks to land again after the exchange and throws a hard straight right that snaps TK's head back. Asham tries one more right, but it comes up short and the linesmen come in. Other Penalties: Asham received a roughing; Josef Melichar a boarding.
Date/Time For Against Opponent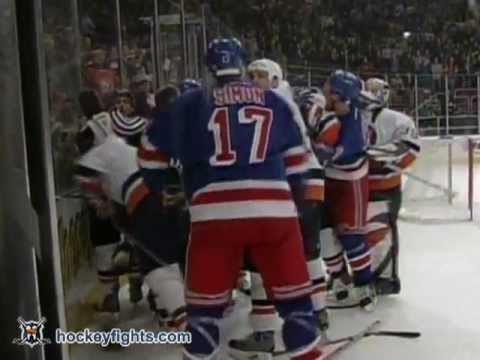 02/19/04
3 Pd 18:32
NYI
@NYR
Matthew Barnaby
Barnaby gives Scatchard a push going into the Islanders zone and by Dipietro Barnaby's waiting for Asham and they drop their gloves and grab on. They grab with the left and throw with the right at first. Barnaby gets off the first few, then Asham responds with a few of his own. They slow down and start going back and forth one at a time in a grapple. Asham is having problems getting his right free so he slips it out of his jersey. He takes over from there landing some hard shots and spinning the two of them against the glass. The linesmen come in at that point.
Date/Time For Against Opponent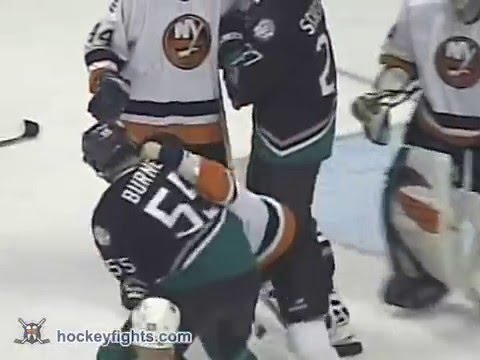 03/12/04
3 Pd 5:31
NYI
@ANA
Garrett Burnett
They're in the Isles' end. They both shed the gloves real fast and grab on. Burnett slew-foots Asham down and falls on him. Asham starts firing rights into Burnett's face from his back and is pretty angry when they get up.
Date/Time For Against Opponent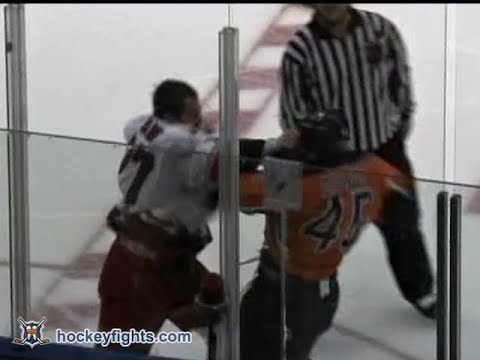 03/27/04
3 Pd 0:53
@NYI
CAR
Craig Adams
Starts just inside the Isles blueline. Asham trying to spark his team and gives Adams the stick and asks him if he wants to go. Adams drops them, as does Asham. Adams starts by throwing two or three rights, mostly hitting helmet and shoulder. Asham responds with rights of his own. Adams gets the jersey up over Asham's head. Asham still lands two or three good ones with the jersey over his head. Asham is still throwing when the linesmen come in since the jersey wasn't coming down.