2006-2007 Regular Season Fight Card
AHL Fights: 1
Date/Time
For
Against
Opponent 10/28/06
3 Pd 20:0
@HER
ALB
Jesse Boulerice
NHL Fights: 5
Date/Time
For
Against
Opponent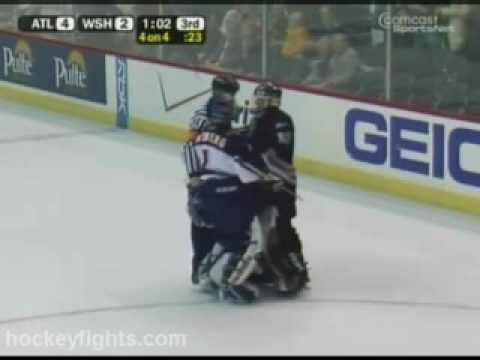 11/22/06
3 Pd 18:58
@WAS
ATL
Marian Hossa
Date/Time For Against Opponent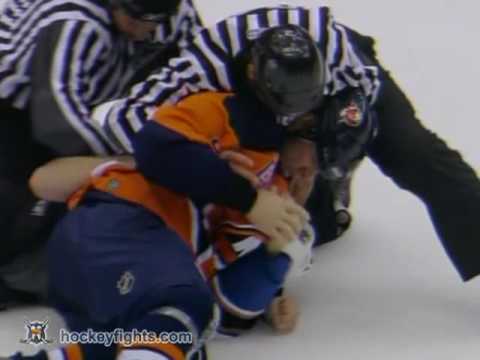 11/25/06
2 Pd 16:37
WAS
@NYI
Chris Simon
Erskine is clearing the front of the Caps' net and as the puck moves away he seeks out Chris Simon. They drop the gloves and just start swinging, Erskine with the rights, Simon with the lefts. They each land a couple, and Simon pauses to regain his balance as Erskine throws a wild shot that becomes a body shot, and pauses for a quick moment while Simon starts throwing lefts again. Erskine goes for a big right that helps throw Simon off-balance. Simon goes to a knee and as Erskine is losing his balance, Simon helps bring him down to the ice and gets in a left as the linesmen come in.
Date/Time For Against Opponent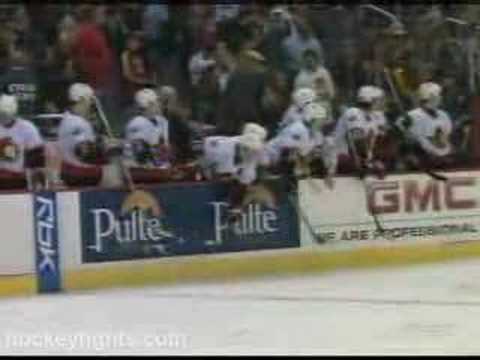 12/06/06
1 Pd 3:52
@WAS
OTT
Brian McGrattan
Erskine runs into McGrattan along the boards and McGrattan returns the favor by knocking Erskine to the ice. Donald Brashear skates over and shoves McGrattan, but Erskine quickly gets up to his feet and drops his gloves, forcing McGrattan to do the same. Erskine throws a right cross to start things off, but McGrattan fires back with a right that sends Erskine falling to the ice. Erskine gets back up and throws a right. McGrattan follows with a series of jersey-jabs and Erskine answers with two rights to the back of McGrattan's head. McGrattan throws a right of his own and Erskine connects with two body shots just before they go back and forth with some rights. McGrattan then lands two hard rights that send Erskine down to a knee and the linesmen quickly step in to end the fight.
Date/Time For Against Opponent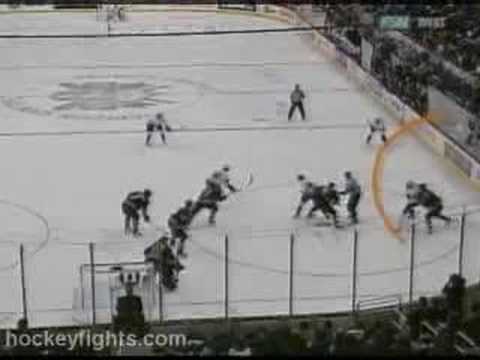 12/08/06
1 Pd 3:0
@WAS
ANA
Shawn Thornton
The two meet up in front of the Ducks' net and exchange a few words before deciding to drop the gloves. After a short square off they grab ahold of each other and Erskine strikes first with a right while Thornton tries to block the punch with his left hand. Erskine throws four more rights and Thornton answers back with two lefts, one of them knocking Erskine down to the ice. Thornton throws a right while Erskine is down, but allows him to get back up to his feet. Erskine misses with three more rights and Thornton throws two lefts just before they fall down. The linesmen are right there to grab them and the end the fight.
Date/Time For Against Opponent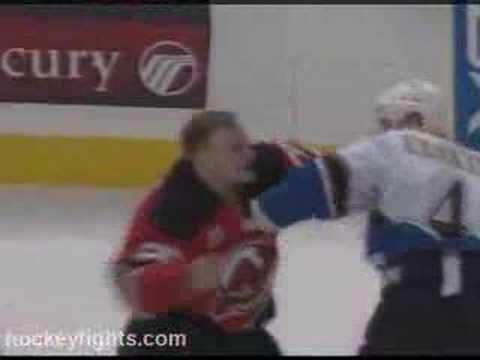 02/24/07
3 Pd 12:28
WAS
@NJD
Cam Janssen