2005-2006 Regular Season Fight Card
From:
Rankin Inlet, NU Canada
AHL Fights: 5
Date/Time
For
Against
Opponent 12/04/05
1 Pd 14:24
MIL
@PEO
Gavin Morgan
Date/Time
For
Against
Opponent 12/09/05
2 Pd 10:11
@MIL
GRG
Greg Amadio
Date/Time
For
Against
Opponent 01/17/06
1 Pd 11:28
@MIL
CLE
Brad Staubitz
Date/Time For Against Opponent 02/11/06
1 Pd 10:11
MIL
@IOW
B.J. Crombeen
Date/Time For Against Opponent 02/18/06
2 Pd 0:9
@MIL
PEO
Gavin Morgan
Other Penalties: Tootoo received a misconduct.
NHL Fights: 2
Date/Time For Against Opponent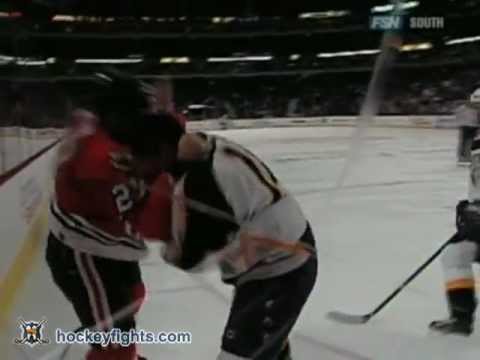 12/21/05
3 Pd 9:46
NSH
@CHI
Todd Simpson
Simpson knocks Tootoo's stick out of his hands as they are along the boards. Tootoo turns around to pick up his stick and Simpson drops his gloves and pushes Tootoo into the boards. Simpson throws two lefts, switches hands, and throws five rights as Tootoo just holds on. Darcy Hordichuk skates over and tries to get Simpson off of Tootoo as players from both sides gather. Tootoo skates back to the Nashville bench with a bloody nose. Other Penalties: Simpson received an instigator, misconduct and game misconduct.
Date/Time For Against Opponent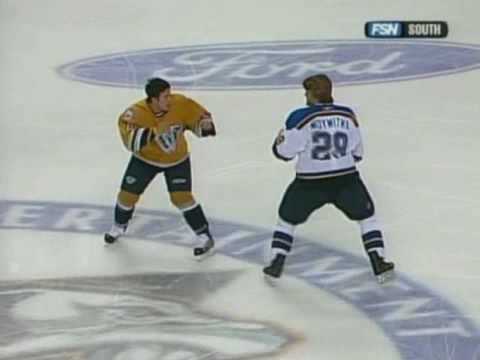 04/01/06
1 Pd 3:45
@NSH
STL
Jeff Woywitka
Behind the play, the two drop the gloves and square off at center ice. They grab ahold of each other with Tootoo locking out Woywitka's left arm before throwing a right. Woywitka throws a right of his own, allowing Tootoo to switch hands and throw a left while Woywitka tries to bend over and avoid the punch. Tootoo throws a right before switching hands and throwing a flurry of six lefts, the majority of them landing. Tootoo throws another right before unleashing another flurry of multiple rights while Woywitka tries to move away from the punches. Tootoo lands a short right while the two are in close and once again switches hands to land four more lefts. Woywitka returns fire with two rights before getting turned around, allowing Tootoo to land a few rabbit punches. Tootoo throws another left before the two get in tight and allow the linesmen to intervene.