"Mad" Mel Angelstad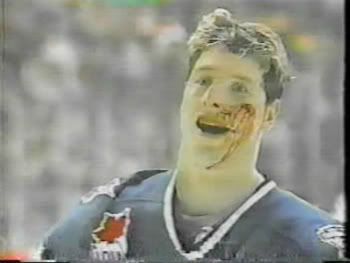 VS.
Darcy Hordichuk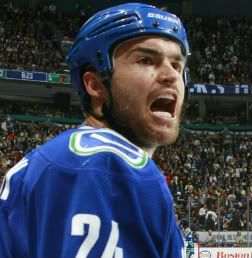 In early 2000 I became a hockey fight fan.
To that point I had been as huge a hockey fan as you could find. Even from the start I had always loved the speed, loved the hitting, loved the action. But once I first witnessed
Darcy Hordichuk
fighting Mel Angelstad, it was all over with. You could consider me a fan for life.
On October 6th, 2000 and November 11th, 2000, fans in Orlando and Manitoba saw possibly 2 of the best toe to toe wars in hockey history. At this point Mel Angelstad was in the mid to latter point of his career, while
Darcy Hordichuk
had just recently been drafted by the
Atlanta Thrashers
in the 5th round. Both would go down different paths after these two fights, though their careers would only go on ultimately to be defined by them.
Round 1,
In their first battle, there were almost 100 punches thrown in 30 seconds. Right hands were thrown. Left hands were thrown. Both fighters landed more than 20 punches a piece, the last and most resounding being an uppercut. As the dust settled "The Mangler" skated routinely to the box, while
Darcy Hordichuk
lifted himself from one knee, spat out his mouth piece, then made his way to his resting station for the next 300 seconds of game time. If you simply watch this clip, you might succumb to exhaustion.
After the game, Mad Mel gave his thoughts on the rookie who impressed him.
Round 2
After the utter war that was the first tilt, Mel and Darcy had a LOT to live up to in the rematch. Now that a month had gone by, both fighters had plenty of time to recoup and prepare for another exchange of epic magnitude. And for the most part, these two did not disappoint. Once again we were all treated to another toe to toe slugfest, the end coming with the two embracing each other as show of respect.
In January 2009
Darcy Hordichuk
reminisced about his battles with "The Mangler" on his blog
Quote:
I know you've all been waiting for this one and I've been kind of excited to write this too. Obviously, you know that I get into a lot of fights but that's my role and I love it but like most things, I had to earn respect doing what I do and I think the first time I really made a statement was when I was 19, back in the IHL.

I was sent down to the Solar Bears from the Thrashers camp – I was 19 and should've gone back to juniors – and I was used to guys who were 16-19 and I wasn't sure what I was in for as far as fighting and how tough guys were at that level. Now, I was fighting men when I was used to fighting kids. So in a game against the Manitoba Moose I was running around being physical so pretty much the whole team wanted to fight me but having just come out of juniors, nobody knew who I was.

I didn't really have the respect in the IHL at the time so I just asked who their toughest guy was and they ended up throwing him out the next shift. It was Mel Angelstad. We were just teeing off for maybe a minute and at the end of the fight, I looked like I was dragged on the pavement and he looked like I dragged his nose from one side of his face to the other.

The coaches pulled me aside after the game and were just laughing and said 'You probably just took on one of the toughest guys in the league, not every fight's going to be like that.' I went on pace that year and got in 27 more and fought him a couple more times too.
While Darcy went on to play and still be playing the NHL, Mel kept on at the AAA level, just waiting for his chance to make his mark in the record books. As Angelstad would put it, "One thing I know about myself is my ambition far exceeds my talent. So I'm happy to have gotten where I am, and I knew early on that I would have to take the role of a fighter if I wanted to play this game professionally. I was willing to do it and it allowed me to find a life for myself in hockey."
Fun Facts
:
Mel Angelstad started his pro career in the Colonial Hockey League, in 1992, with Thunder Bay. As Mel would put it:
Quote:
"I remember my first year as a pro I was 20 years old and I made $250 Canadian a week and I couldn't believe I was getting paid to play this game; I would have played for free," Angelstad said. "We would have 4,000 people in the crowd at Thunder Bay and they were watching me play and cheering for me. I couldn't believe it. I thought it was the greatest thing that I could ever do."
Before his NHL debut, Mel was making around 60 thousand dollars a season - reportedly the max he had ever made throughout his career.
Some of the better hockey quotes that have come to summarize Mel Angelstad's career:
Quote:
"He was probably born fighting. "
- Ken Hitchock
And the more bittersweet:
Quote:
"Mel might be the best minor league tough guy you could have because he really takes care of the young guys, he teaches our young fighters how to do the job and he's so coachable and well-liked by everybody in Portland. We're really happy to have him and he's a valuable part of our organization. He's kind of like Kevin Costner's character Crash Davis in 'Bull Durham' -- he's not quite good enough to get to the majors himself, but he's helping other guys get there."- Caps GM, George McPhee
So when the
Washington Capitals
came calling for "The Mangler" to make it official, Angelstad made his debut against the
New York Rangers
.
One of the best quotes that came from that particular game (when interviewed)
Quote:
The SP: Pick one on-ice encounter from your NHL adventure that will stay with you forever.

Angelstad: I was talking with (Rangers enforcer) Sandy McCarthy about fighting. We sat there for about a minute or two because it was a TV timeout. I said, "Sandy, let's get this done." He said, "You wanna fight tonight?" I said, "Yeah, let's do it." He goes: "I'm not fighting tonight. It's the last game of the year. Why the hell would I wanna fight?" I was like, "C'mon, Sandy. I'm as old as you. I'm only going to get this one NHL game. Just do me a favour and let's get this done. You could beat the (bleep) out of me. I don't even care. I'll come out of this smiling and you can look like a king, but I'll be the happiest guy in the building." He goes, "Sorry, Mel. I respect what you want to do, but it's not coming from me."
When interviewed by reporters post-game
Quote:
More write up on Mel's Debut....

After 702 minor-pro hockey games, 32-year-old Mel Angelstad of Saskatoon made his NHL debut with the Washington Capitals on Saturday.

"It was a dream come true," Angelstad said. "I've never achieved something so great in all my life."

He got 13 minutes 21 seconds ice time against the Rangers.

"I never thought I'd get that much ice time," he said. "But the guys recognized it took me so long to get here.

"I tried to get into a couple of fights but the teams are out of the playoffs so nobody has anything to prove," he said.
Hope you all enjoyed again.