March 1999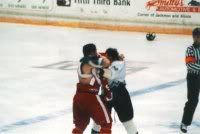 "The one thing I remember the most about this fight was that I was thinking to myself (when I was punching him): I am hitting this guy as hard and as fast as I can and he's not dropping. It was like hitting a wooden post and it just wouldn't budge."
-
Ken Tasker
In 2012, when you ask the average, every day hockey fan what some of their favorite fights are -- the varying responses would include the likes of 'Bob Probert and
Marty McSorley
. PJ Stock and
Stephen Peat
. The Flyers brawling with the Senators during the 2004 season'. What do all these have in common? They all occurred in the National Hockey League, and for the most part, are all fairly well known even beyond the hockey community.
But if you were to go and ask 5 out of 10 die hard fans of the sport, you'd probably get pointed in the direction of a somewhat obscure, fuzzy looking clip of two guys punching each other furiously; a video made up of cheesy 80's music, with a broadcaster seemingly on the verge of an aneurysm. In a league far from the bright lights and media spotlight of the NHL.
To 'Joe Youtube Public', this is what hockey fighting is all about; this is as good as it gets.
As the hockey broadcaster in the clip says,
"This is a Brawl!"
Ken Tasker vs Trevor Senn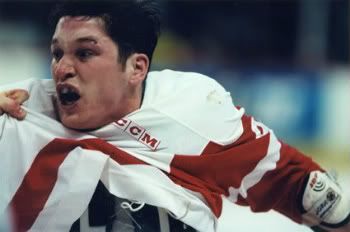 vs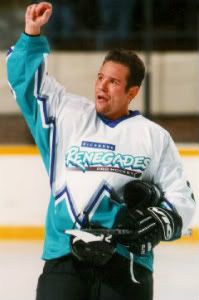 On March 13th 1999, in Toledo, Ohio, a small but rabid crowd of hockey fans were treated to quite possibly one of best, most intense fights of all-time. The fans may not of known it at the time, but thanks to the power of Youtube and Social Media, Tasker-Senn has gone on to gain world wide notoriety from the Millions of internet views, to even national exposure on cable television.
In the near minute that these two fought, almost 100 punches were thrown. From the collective damage, ounces of blood were spilled. From each landing fist on face, bruises and possible broken bones. As Ken Tasker himself described it,
Quote:
"We both looked like we went through a meat grinder"
More than 10 years of time past, 2 careers totaling almost 1 thousand games & after over 300 combined fights, this one classic bout has gone on to define the legacies of Trevor Senn and Ken Tasker. Furthermore, it has proven to epitomize ice hockey fighting in general, and will so for years to come.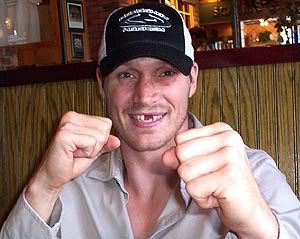 When interviewed by
Gong Show Hockey in 2005
, Tasker spoke of the first time he fought Trevor Senn:
Quote:
This little guy bumps into me and I look at him like "what you wanna go?" He looks up at me with these bloodshot eyes and just starts losing his mind. We had a pretty decent scrap and I skated back to our bench after serving my time. One of the vets beside me said "Good job kid, you're gonna make the team for sure". I said "You think coach will be mad at me because I fought a guy smaller then me?" He looked at me in shock and said "Kid that's Trevor Senn he's the leading PIM leader from the ECHL.
Prior to the classic fight, This was what was going through Tasker's mind:
Quote:
I knew he was coming into town the next night and I was so wired I could hardly sleep. My family was in town, and in front of my home crowd, I really wanted to put on a good show, and I knew it would be a battle with him. So that fight was of days of pent up anxiety. In warm-up we were eyeing each other a few times as we skated around. I said to him "So we gonna go tonight?" He said "Yep let's give them a show". Off the face off, we both agreed to head to center ice.
Then, the fight begins...
Quote:
"Off the face off, we both agreed to head to center ice. He was doing the elbow cranks and what not on the way there. The final part of the fight I got some combos going and some rhythm and was lucky enough to end up putting him down."
After the game, Tasker received some feedback...not to mention a little cash
Quote:
"Everyone thought it was the best fight they had ever seen at the Toledo barn. At the time I didn't realize that it was that out of the ordinary, it was just another fight for me, and I just felt like I was doing my job and that was that."

"After the game I had three different Toledo fans walk up to me and shake my hand with 50$ bills in it. The fans in Toledo are hockey crazy and are mostly blue collared workers, so I think they really appreciate when a guy like me literally fights for my paycheck out there. I think it was great that this fight happened in Toledo, it couldn't have happened in a better place."
Trevor Senn gets his due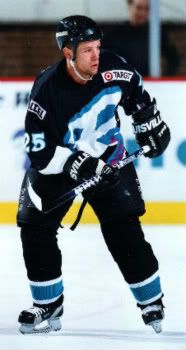 In late 2007, in front of almost 5 thousand fans, Trevor Senn's number was retired in Richmond, Virginia. After years of blood, sweat, & sacrifice (with surgeries to his back, face, shoulder, knees and hands), Senn received his well deserved honor. After more than 4,000 penalty minutes, he sure as hell had earned it:
Quote:
The second intermission was designated for the Trevor Senn ceremony for the retirement of his jersey and the unveiling of his banner in the rafters next to the recently honored Brian Goudie banner. Trevor was joined on the ice by his wife Christine, his children Gunner and Cooper and his father as Renegades Owner/GM Allan B. Harvie Jr. recognized Trevor for his hockey accomplishments. Coach Goudie spoke and offered his congratulations and Trevor was presented with an official 1995 framed Renegades jersey. The new Senn banner was then revealed to the delight of the crowd. Trevor than spoke and had a tearful appreciation of everything that the Richmond teams and fans have done for him. As he left the ice, the fans chanted "Trev-or, Trev-or, Trev-or" as he waved in gratitude.
Legend against a Legend in the Making
In today's world of pro hockey, the hockey enforcer who best examplifies Ken Tasker's style of fighting is the ever free swinging,
Jon "Nasty" Mirasty
. And in 2003-04, "Nasty" took on the legendary tough guy, in what most would consider a dream match-up.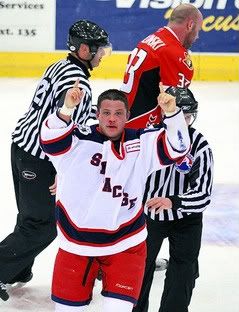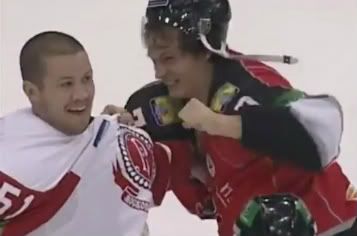 When interviewed years later,
Jon Mirasty
said this of his bout with Tasker:
Quote:
Q: What was it like battling Ken Tasker, someone who's considered a legend? Also, have you ever seen his toe-to-toe fight against Trevor Senn?

Jon Mirasty: Actually we had words in warm ups and he just kept telling me "I was a kid and he was going to kill me". I just laughed and told him I would go with him anytime and obviously he knew who I was because he was coming to me and not the other way around. First shift of the game we went which was a pretty decent fight. I thought it was funny because I was fighting a guy who I used to watch fight my older cousin Leon on his fight tapes when I was like 12 or 13. As for his fight between him and Senn, a great fight between two really tough men.
To finish up, on Feb 19, 2010, Ken Tasker was once again interviewed (This time by ProHockeyNews) regarding his thoughts on the lasting impact of his brawl with Trevor Senn. Also, upon the new found fame it has recieved in result of websites such as Youtube.
Quote:
The Warrior: Ken you've retired form hockey enjoying life and somehow a fight gets posted between you and Trevor Senn, when did you realize you had become an internet sensation?

Ken Tasker: Well, actually a few years back. I started getting it emailed to me from random people... I just remember thinking "how do these people get this footage if I don't even have it?

The Warrior: Every hockey fan was getting this video and it looked like 100 punches were thrown. Do you remember the night of that fight?

Ken Tasker: Sure do, I'll remember it forever. I was particularly nervous because my Mom and some family were in town. A little history before that though. My pro tryout was with Brophy and Al MacIssac down in Hampton Roads and my first day they show me this video of Downey and Bedard... They ask me to listen closely to the announcer- He just finishes welcoming Bedard's family when Downey and Bedard line up against one another... The fight was toe-to-toe for about five punches and then Downey rains down with those lefts and about three monstrous bombs drive Bedard into the ice opening him up bad, he was leaking all the frigging place down on one knee... That image stayed with me my whole career...

I really wanted to put on a good show; in warm-up we were eyeing each other a few times as we skated around. I said to him "So we going to go tonight?" He said "Yep let's give them a show". Then off the face off, we agreed to head to center ice. The one thing I remember about it was 'Wow I am hitting this guy with my best shots and he won't go down'.

The Warrior: How about Trevor Senn, have you talked to him since the video became famous worldwide?

Ken Tasker: Yeah, we got a call from the FUJI network in Japan and they wanted to get us together for a follow-up to interview us in person... Senn was saying about that day that he was getting the boys all riled up asking." Who's it going to be boys? Who's going to take on Tasker??

We went down to NYC to film for two or three days... Was cool to sit and hang out with him... He was frigging hilarious... LOL the Japanese kept asking him to put more ENERGY!! into his answers and then he kind of rears up like somebody kicked him and say's "Well what the f@ %)? You want me to go with him again?? I was like woahhh Senn settle down...