First ever game for the
Danbury Whalers
and it was a hell of a game.
Danbury Arena was PACKED for this one, and the atmosphere was fantastic. I sat in Section 102 which is the rabid/fun section. It's the section directly behind the visiting team's bench, and all they do all night long is heckle the opposing players, especially Jesse Felton. It was great. MrFrost and Ironfist were made for this section, too bad they're out in bum**** Midwest USA.
Herm Sorcher, the guy in charge of the team, did a great job planning for opening night.
First, some photos of the guys we at hockeyfights.com care most about:
Corey Fulton and Devin Guy in pre-game intros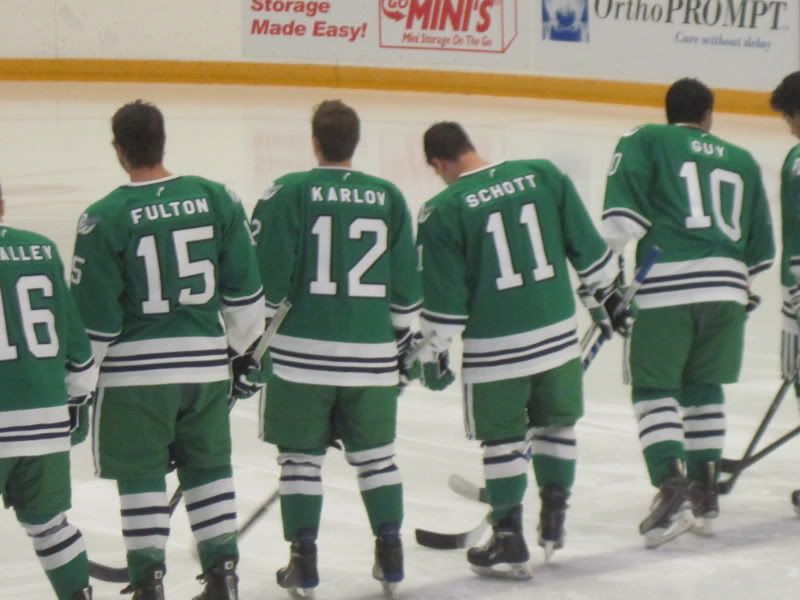 Mike V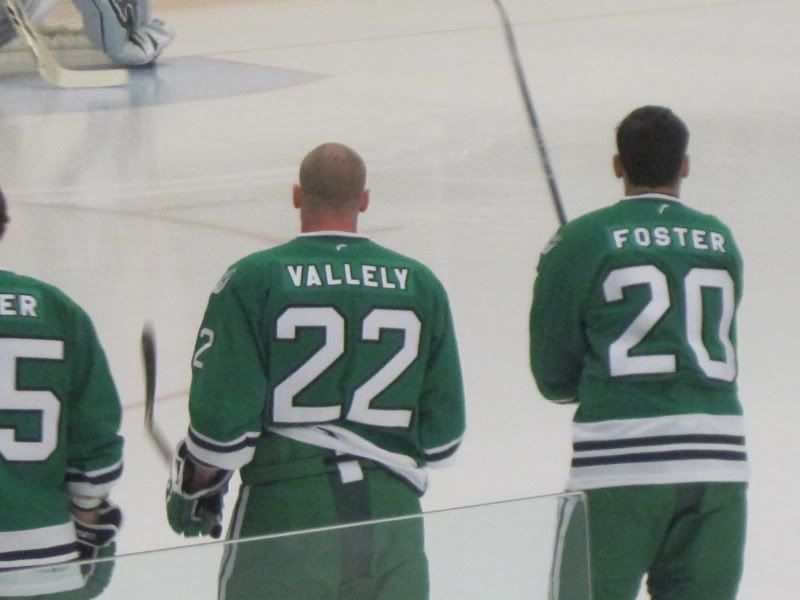 On to the fights....
Steve Obelnicki vs Corey Fulton
Missed recording the first 3 seconds of the fight. It's a shame too as the guys came out swinging. No excuses from me either, there was even a little square off but I was caught napping.
Fulton's face was a mess after the fight; he was leaking like a faucet and had to go off for repairs.
I'd give the Edge/Win to Obelnicki in this one.
Vote: Steve Obelnicki vs Corey Fulton Oct 29, 2010
Chris Bain vs Devin Guy
Guy and Obelnicki are having a conversation after the play; it looked like they were setting up an appointment. However there was a brief stoppage (Brooklyn timeout possibly?, I don't remember) and the A's change their line. Obelnicki comes off, Bain comes on. Bain and Guy line up for the faceoff together, and this time I was ready with the camera.
Kind of a slow fight. Sorry but some fat chick started jumping up and down in front of me.
Call it a draw.
Vote: Chris Bain vs Devin Guy Oct 29, 2010
Joe Pelle vs Mike Vallely
Start of the 3rd period. Mike V hadn't taken a single shift yet, but he's out there to start the 3rd. In the short warm up before the period began, I was watching Mike V and it looked like he kept practicing the glove drop. He'd just skate around and shake his gloves every 20 seconds. I guess that's no surprise for a guy who's never had a real fight on the ice before yet knows he's about to get in one, but it seemed funny to me.
Anyways, him and Pelle line up on the faceoff and drop 'em immediately.
Pelle tees off on him, landing several heavy blows. Mike V threw 1 or 2 as well, but didn't look to come close to landing. Mike V also broke his hand in this fight and came out of the box and left the game about a minute afterwards.
Clear win Pelle
Vote: Joe Pelle vs Mike Vallely Oct 29, 2010
Angelo Serse vs JR Bria
Not every fight can be a HW fight. These 2 spontaneously drop the gloves during play. I didn't even bother turning the camera on, as they hugged for 3 seconds and then Serse went for the takedown.
Draw in a crap fight that was over before it even began.
Chris Bain vs Corey Fulton
Ensuing faceoff. They line up next to each other and exchange a word or two. The puck drops and Fulton is trying to get the fight but Bain doesn't seem interested. Finally, Bain just turns around and drops them. It was a high spirited fight with both guys swinging hard.
Bain definitely has a unique beginning to his fights. He just kind of walks into the other player, whether there's a square off or not.
I'd call this one a draw too.
Vote: Chris Bain vs Corey Fulton Oct 29, 2010
Other thoughts on the game:
A good chunk of the opening period was very sloppy. It was clear it was these guys' first game of the season, especially since neither team played any preseason games.
Skill level obviously isn't the best, but these guys go all out every shift and that's what makes the game entertaining. Each team has a couple slick skaters though, for sure.
Officiating was great. 3 official system: 2 linesies and 1 ref. The ref didn't get involved in the emotion of the game, which is always a positive.
Both teams are physical. In the 3rd period especially, the nastiness picked up big time. Some huge hits in that period.
I like this Fulton kid a lot. His 2 fights were easily the most entertaining 2 of the night. He has a no bull**** style and just starts throwing hands.
Ice time:
Obelnicki for NY and Guy for Danbury both played regular shifts. Bain started the game playing a semi-regular shift but as the game went on, he also took regular shifts.
Pelle and Mike V were on the ice just once, and they fought each other as soon as the puck dropped.
Fulton's 2 fights were also the only 2 times he was on the ice.
All in all, this was easily worth the $14 ticket. Hopefully the other 5 teams in the league put on as good and professional of a show as Danbury did.